I haven't done anything like this before, so please, be gentle 🙂
I first heard of MarsEdit when I was browsing Gruber's website and I saw it listed in his Essential Apps. At the time I was using Hugo as my "content manager" for my blog, so I moved on. Fast forward a year-or-two, I migrated to WordPress.
A week-or-so ago Gruber blogged about MarsEdit 5.0, so I decided to give it a go.
After 10 days of using it, here is my feedback.
First Impressions
I downloaded the app from Red Sweater Software's website, at the time I didn't know that it was also available on the App Store. A simple Zip file which contained the App, I moved it to the application folder and I started it.
Right from the start, it asks you two simple questions: Your blog's name and the address.
I entered my Armenian blog's name "Ազատութիւն Ամենեցուն" and address "անդրանիկ.հայ". As you have noticed, it's a unicode domain 🙂 This info will be important later.
MarsEdit automatically figured that I'm running WordPress and that it should use the WordPress API!
The interface is nice and intuitive. At first, you will see information about your blog, It's made of two "parts"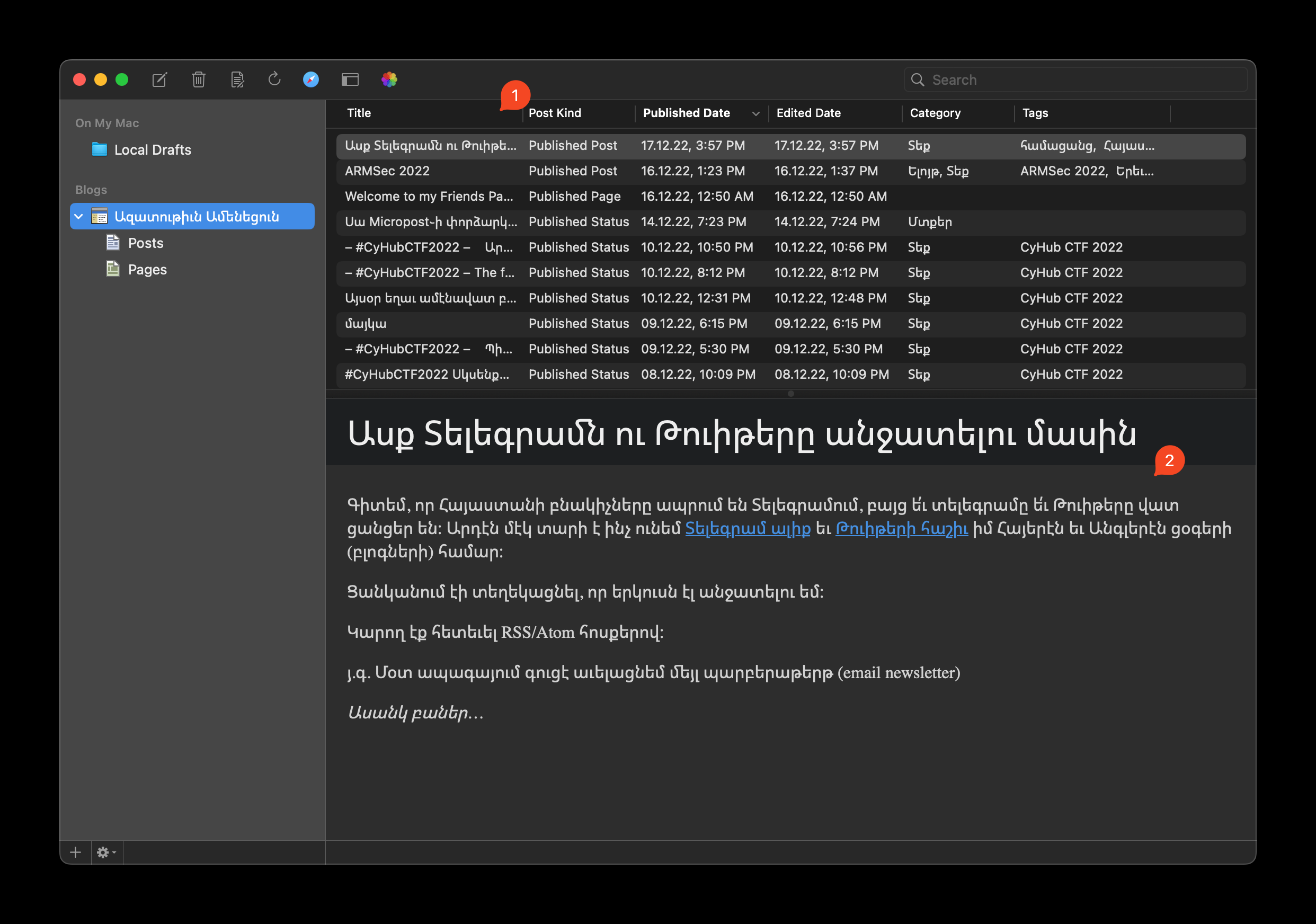 At the top is list of your posts and pages
At the bottom is a live preview of your selected page/post
The live preview doesn't actually fetch things from your server, instead, you can have a template. Luckily, you can edit the preview settings and download your template. Unfortunately, there was (is?) a bug and MarsEdit was not able to download the template of my blog. First thing that came to my mind "I'm using a unicode domain, that might be the issue!" and turns out I was right. As soon as I added my English blog with its domain (the one that you're reading right now!) the "Download Template…" button worked like a charm!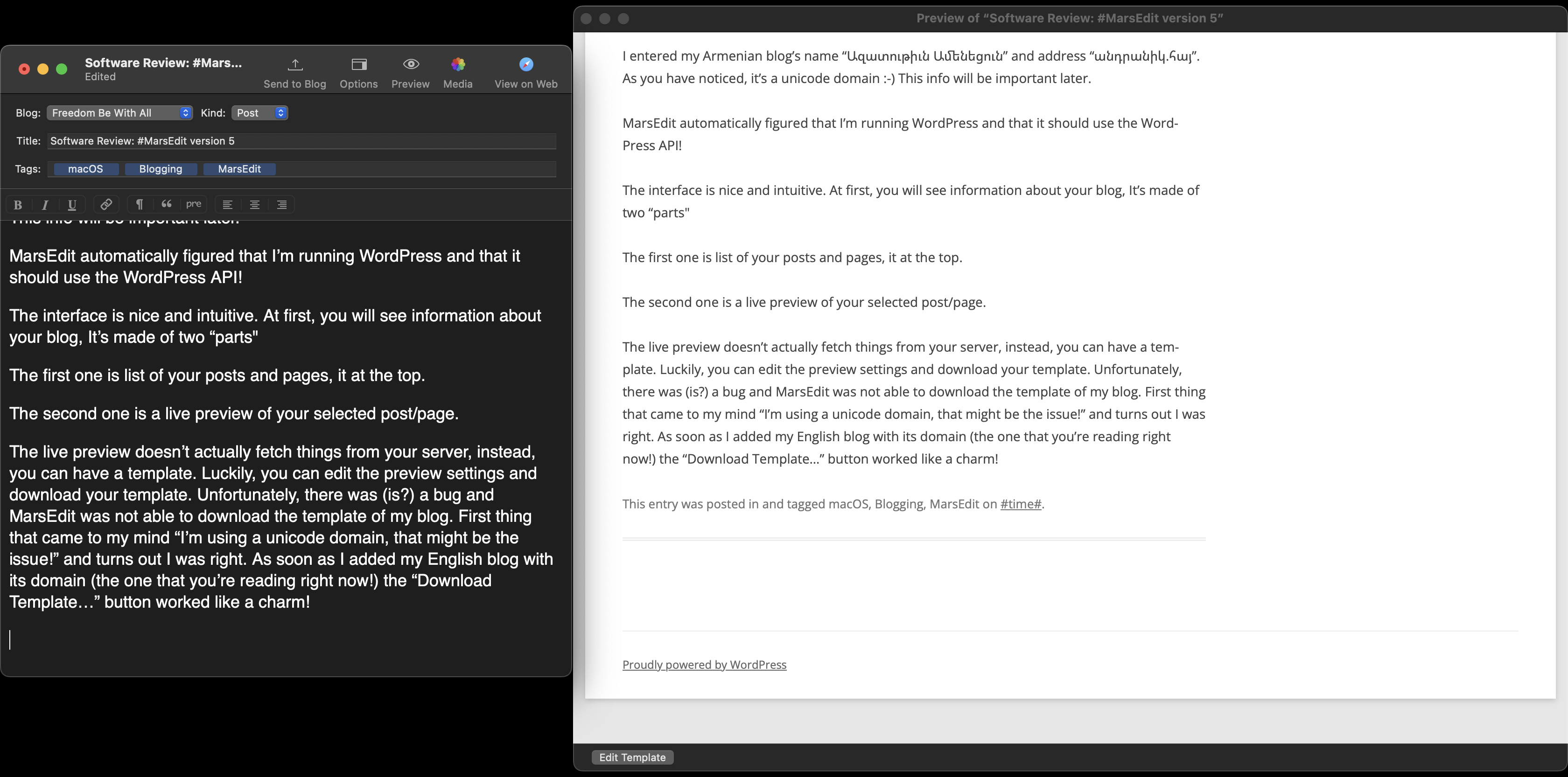 The Editor
This is, easily, the best editor I've seen for blogging.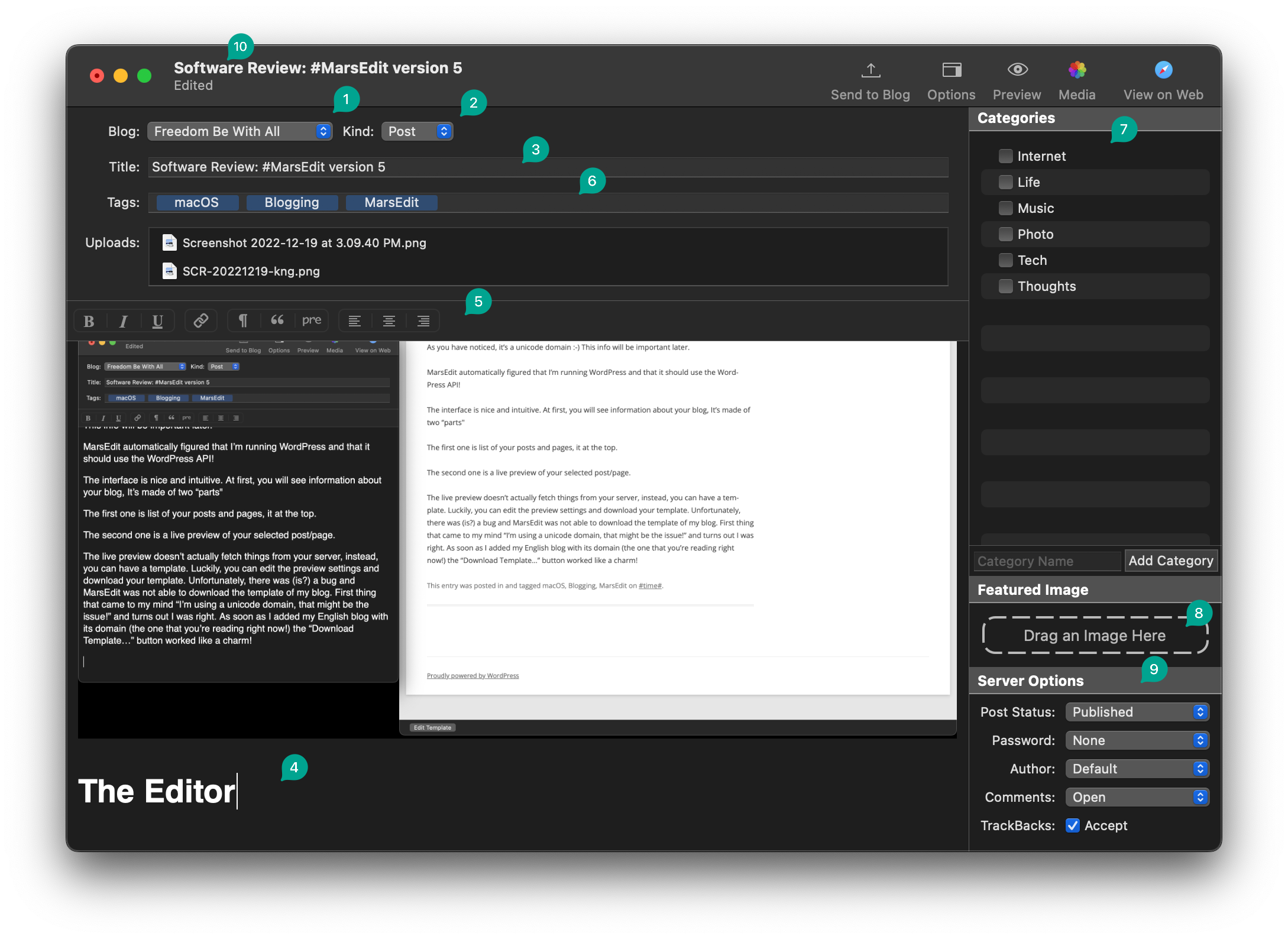 You start with selecting your blog (1) and the post type (2), you can give your post a title (3), but turns out that's not mandatory at all. As you start typing in the input box (4), you will notice the toolbar at the top (5), which has the basic formatting buttons such as Bold, Italic, Underline. There's "adding a link" and paragraph formatting. For example —
This is a plain paragraph style
This is a quoted paragraph style
And this is a preformatted paragraph style
Depending on your theme, it will look different in preview/website and in the editor.
You can (and should!) also add tags (6), which MarsEdit will autocomplete while typing and select Categories (7). There is also the option to specify a "Featured Image", I've never used this in MarsEdit nor in the WordPress editor, so no comments from me!
Finally, you can specify the server settings (9), such as the status of the post (Published, Draft, etc), Password protection, author (I actually DO run a multi-author blog!), comments and TraceBacks!
But the most impressive feature for me is the ability to save things locally, hence the Edited (10) at the title bar! I'm mostly on the move (well, not these day, it's cold outside), while I don't travel a lot, I do have daily work-things, such as going to a government office, a bank, a notary office, etc., which means I'm either commuting or waiting for my turn. While I have a mobile internet with me, we all know how old buildings are not built for the wireless era, so it amazes for me that I can just ⌘S and save my post locally to continue later.
All the local drafts are available in the… Local Drafts 😅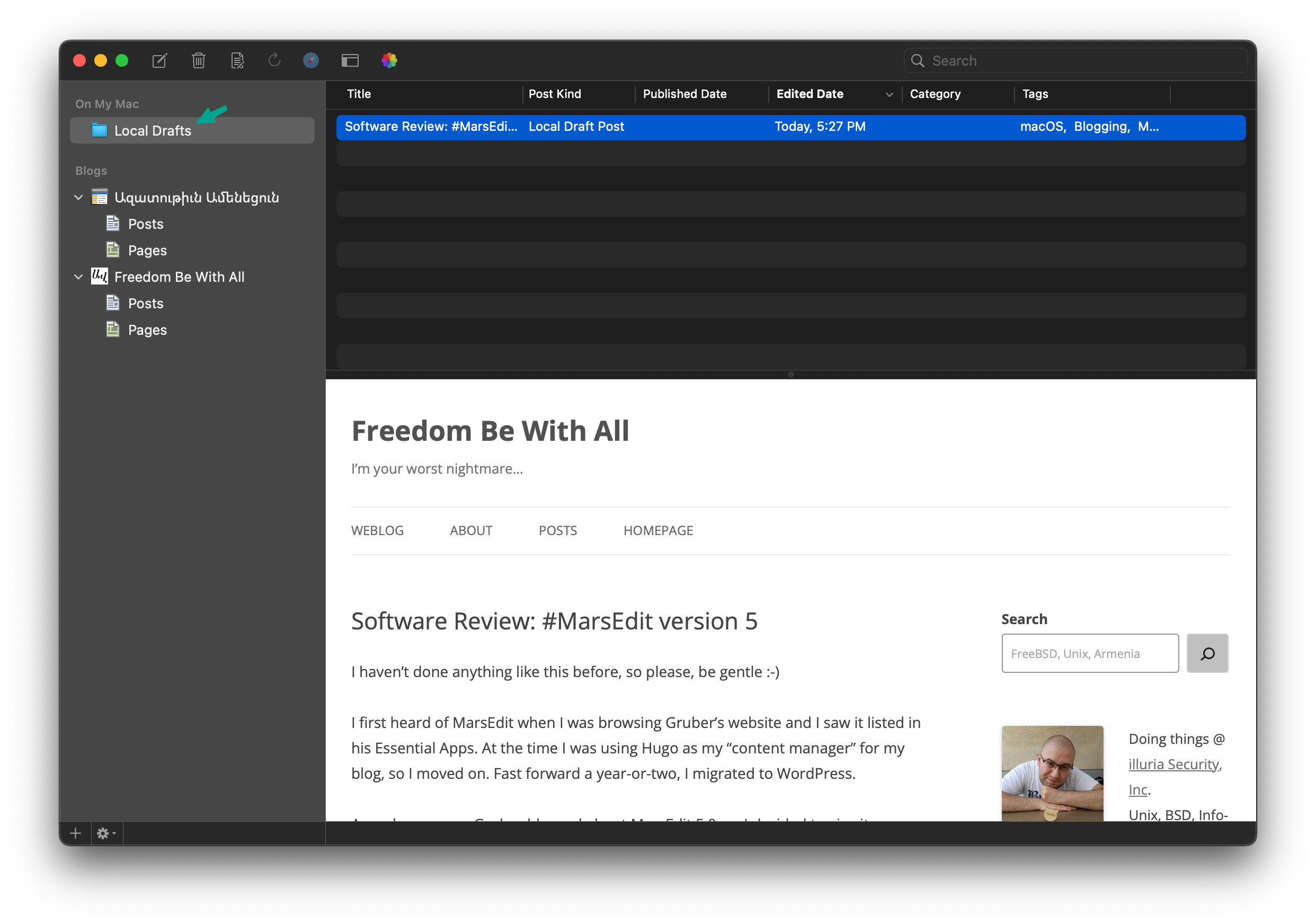 Amazing Niceties
The first nicety that I noticed was in the editor and it's called "Typewriter Scrolling". It does exactly what it says. The input box's cursor will always be at the middle of the editor.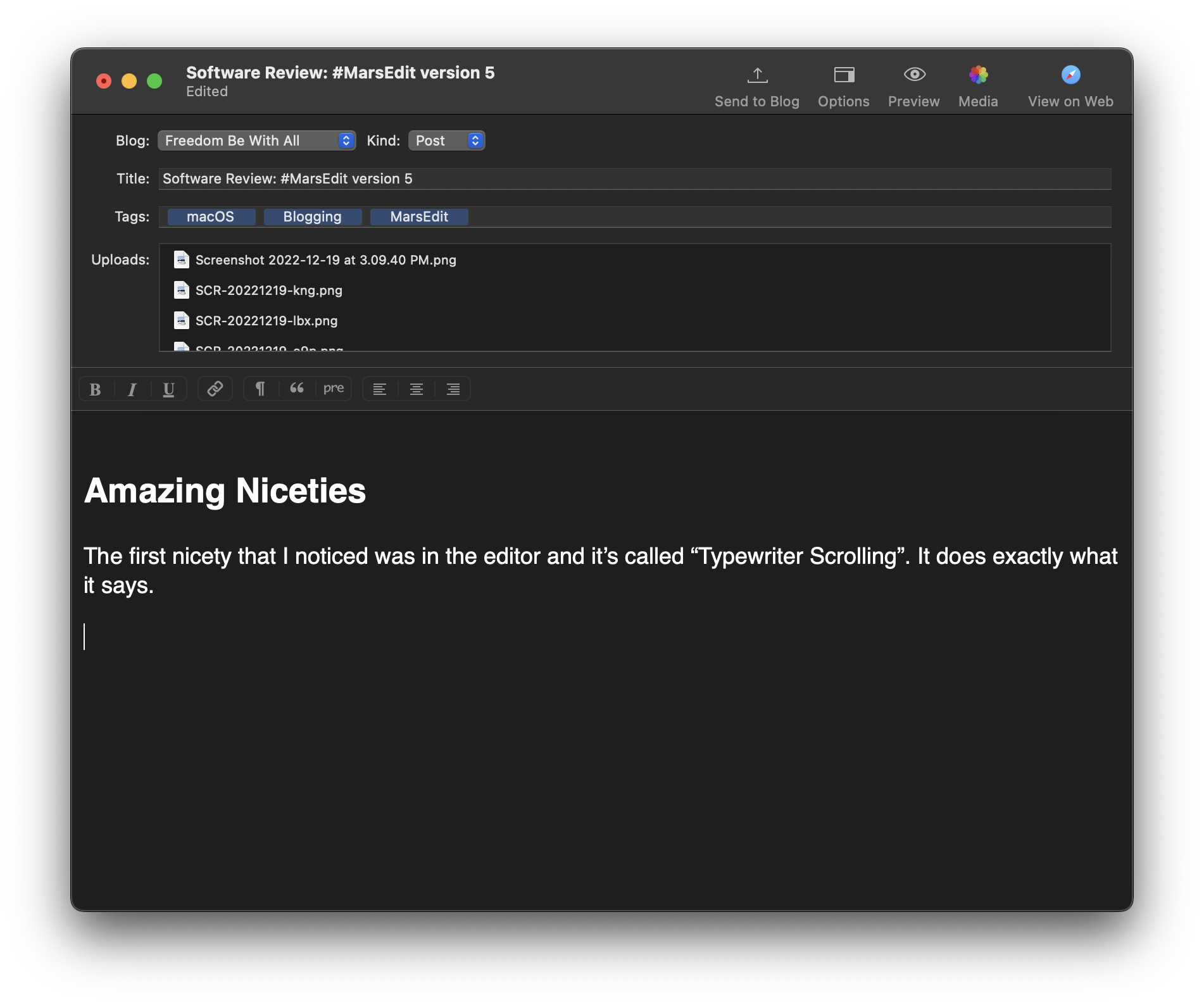 The second nicety is that everything is customizable, and I mean everything! For example, I blog a lot with coding samples, so I need a code tag. All I had to do was to go to Format → Customize… and I was able to create a new HTML tag for my code formatted text. Like this:
uname -a
And the final nicety that I noticed was the editor's integration with TimeMachine-style restore points. I wish if every software had a feature like this!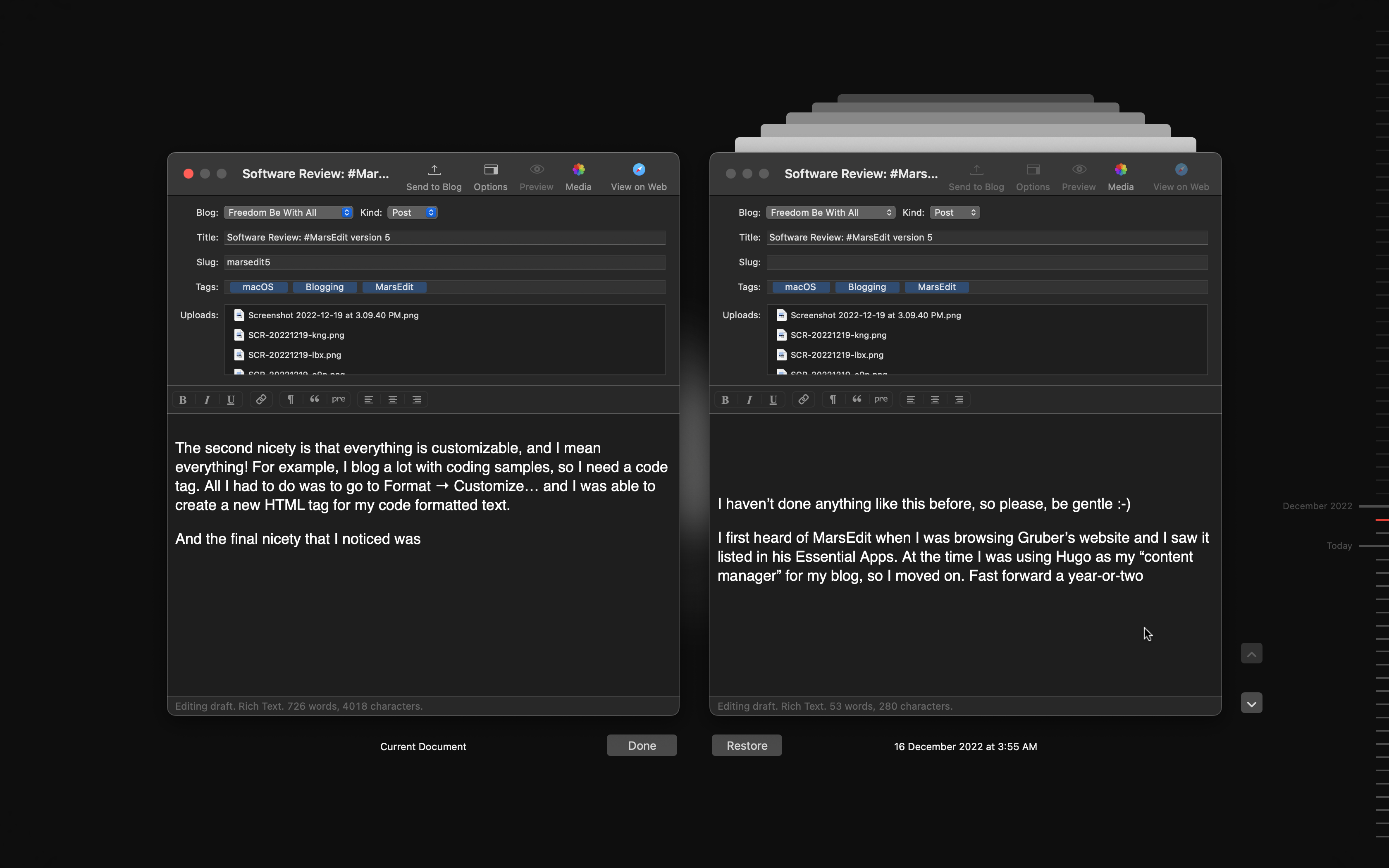 Common (Personal?) Issues
I wasn't planning on writing this review, at all, but since I wanted to try out MarsEdit before purchasing it, I wanted to use it intensively. In the last two weeks we had a Capture The Flag hacking competition and an Armenian InfoSec conference, so I blogged every details of these two events using MarsEdit. Actually, I was an organizer of the CTF competition, so I used MarsEdit to blog about everything from server installation, platform setup to "the food is here!" status updates 😄
That's where I had my first issue! I set the Paragraph Style to Preformatted and I pasted some code, here's how it looked like, if the code was multi-line;
It took me a while to realize, that I had to 1) set the Paragraph Style to Preformatted 2) Paste the code by doing Edit → Paste HTML Source. I'm not sure if this is an issue with my theme or not, but in case you get a similar issue, that's how to solve it! Now, the code looks perfect 😇
The only other issue that I had was with the microposting feature, which is new in MarsEdit 5. It looks like a "status update" on Twitter or Mastodon.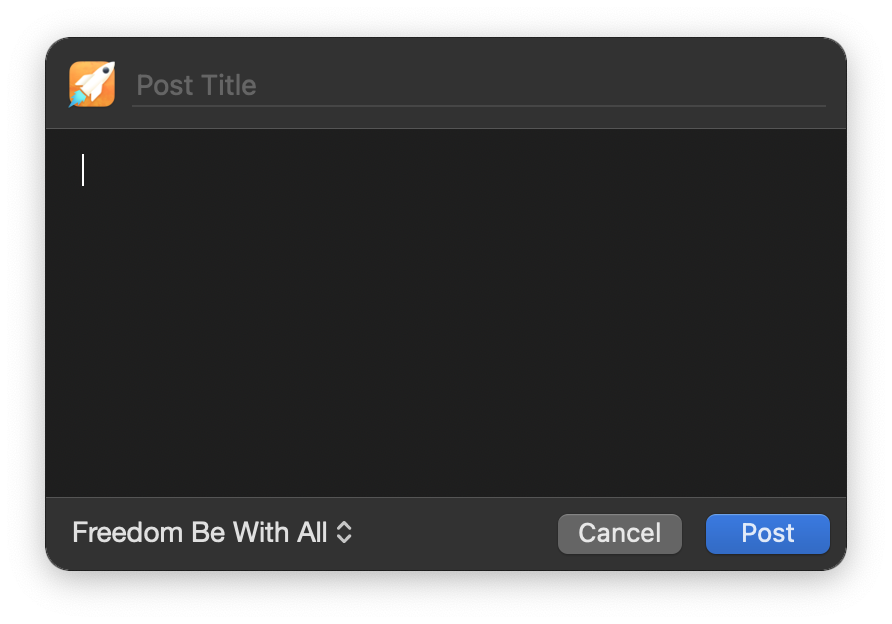 When I first used this on MarsEdit 5, MarsEdit crashed. So finally, I'd like to talk about how
Daniel Jalkut is Amazing!
Like I said, I used MarsEdit 5 as soon as it came out, and the "New Micropost" feature crashed every time. Just 6 days after its initial release, Daniel released MarsEdit 5.0.1 which fixes the Micropost issue that I was having.
Finally, I send an email to Daniel saying
Greetings Daniel! how are you?

Looks like that MarsEdit is not crashing after upgrading to Version 5.0.1 (10611), however, a small question (feature request?):

In MarsEdit -> File -> New Post, I can set the Kind (Post Format) to Post, Aside, Status, etc.

I was wondering if there was a built-in way to make sure that my micro-posts are always set to Status? Microposts with no title look silly on WordPress, but in Status mode they look like a twitter/social-media status update!

I was wondering if I can implement that by using the Custom Fields tab in Blog Preferences.

Let me know!
Daniel replied to me just an hour later saying
Hi Antranig – this is a great idea and I'll try to get it added as a preference ASAP. I'll let you know when I have it in there!

Daniel
Conclusion
MarsEdit 5 is amazing. Currently it costs $59.95 for a Single User license and $89.95 for a Family Pack license (5 people in a private household), and let me tell you, it's totally worth it!
MarsEdit 5 is my Christmas gift to myself.
If you are also a blogger who uses one of the platforms that MarsEdit supports (WordPress, Micro.blog, Tumblr, TypePad, Movable Type, and any blog that supports a standard MetaWeblog or AtomPub interface) and don't want to open your browser every time an idea comes to your mind, then MarsEdit is for you.
P.S. WordPress's Block Editor is also amazing. The WordPress team has done an amazing work with Gutenberg. And while I'll be using MarsEdit for my personal blogs while writing from my Mac, Gutenberg has been amazing with my other WordPress blogs while writing from my FreeBSD laptop! Give that a try too! 😉