Ever since my Sony PS4 Pro's HDD broke down last year I've been using my iPad as my main gaming device. There are some awesome games such as Moonshot, Dead Cells+ and my personal favorite, LEGO® Star Wars™: Castaways.
A day (or two, I'm not sure) ago, Viacom International Inc. and Paramount Global in collaboration with Nickelodeon released TMNT Splintered Fate. I've been playing the game for couple of hours now and I like it very much.
But this is not a game review, as I'm not a reviewer.
I'm not sure if people read/listen to game dialogs these days, but I do.
I just encountered DONATELLO, METALHEAD and APRIL talking about software, open-source and hacking.
Unfortunately, as I was not aware about the conversation, I had to restart the game from scratch twice so I record the the dialog.
Here's a GIF and the dialog itself 🙂 I hope you appreciate it as much as I did.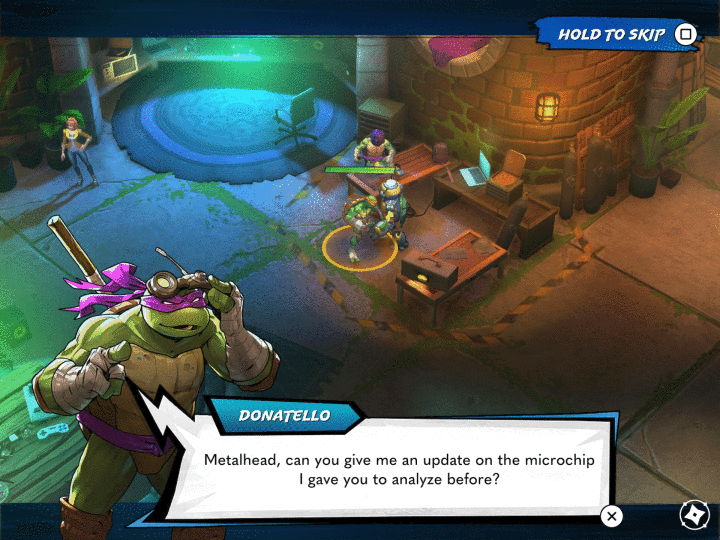 DONATELLO: Metalhead, can you give me an update on the microchip I gave you to analyze before?
METALHEAD: Affirmative. Analysis complete. Top-level configuration consists of standard StockGen operational code.
METALHEAD: Command controls for MOUSERs, etcetera.
DONATELLO: Open source?
METALHEAD: Both open source and proprietary, most of which we have already accessed in the past. However… the drive also contains inert sub-configurations, protected by military-grade encryption.
APRIL: What do you mean, 'inert?'
METALHEAD: Hidden 'ghost code' that I posit contain command executables serving an unknown purpose.
DONATELLO: Hm. Kinda like the computer version of a sleeper agent.
METALHEAD: Affirmative.
APRIL: But why would Stockman hide ghost code inside his own code? It's like he's hacking himself.
DONATELLO: Yeah… it is strange. But we've gotta find out what's in that hidden code before we can jump to any conclusions.
DONATELLO: Metalhead, do what you can to break through that encryption.
METALHEAD: Command acknowledged.
APRIL: Correct me if I'm wrong, Metalhead, but with this new info we should be able to… shall we say… borrow some StockGen tech to occasionally support you guys from afar?
METALHEAD: If you are equating 'borrow' with 'hack into and control,' that is affirmative, April O'Neil.
DONATELLO: Well! That's exciting…
APRIL: Right? So, keep an eye open for some friendly support drops while you're out there. We'll have to keep it low key for now. Don't want to set off any unnecessary alarms with the powers that be.
That's all folks…